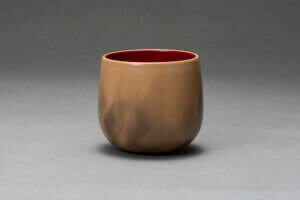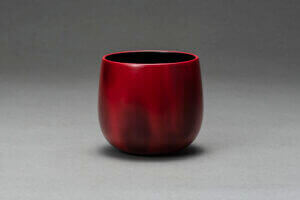 Have you ever seen someone Swirling a glass of wine or whiskey in a familiar way?Swirling whiskey or wine is something many of us do when we taste.
A new cup with a cute and elegant design has been created using the turner's wheel technique of Yamanaka lacquer ware.
We hollowed out a thick piece of zelkova wood to create a structure that rises up with the weight of the wood, and the bottom is rounded to create a design that sways for a while.
From 19:30 on January 28th (Friday), Murakumo Nuri will be introduced on the NHK BS Premium program Ippin. In addition, it will be sold over the counter for a limited time at several Takashimaya stores. It would be great if you could see the different expressions of Japanese candle soot when you see them at the store.
https://www.nhk.jp/p/ippin/ts/32MZQ6MXV8/episode/te/QZLZ8773V8/
The black pattern on the side is a rare technique called "Murakumo-nuri" (Murakumo lacquerware), which uses soot from Japanese candles.
Soot from a Japanese candle is added before Japanese lacquer(Urushi) hardens to create a pattern reminiscent of black clouds and flickering flames.
Currently, there is only one lacquerer in Yamanaka who is doing Murakumo lacquerware.
In order to improve this situation, we have started a human resource development project to train young learners to become lacquerer.