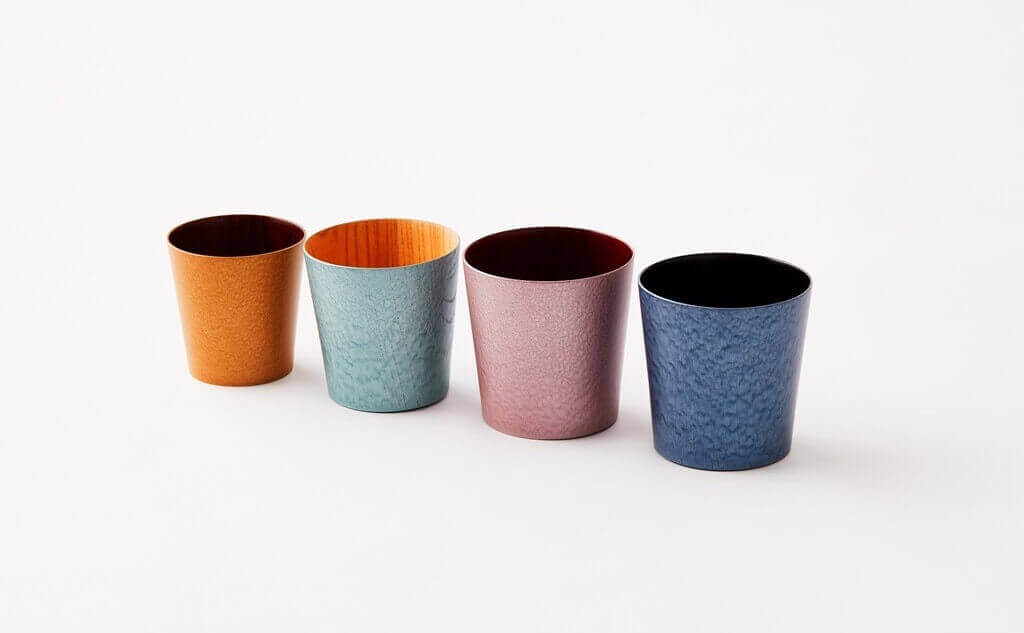 What's "Utsuroi cup"?
The "Utsuroi Cup" that we manufacture is a product that makes use of Yamanaka's potter's wheel technology and coating technology.
With the motif of the colors of the four seasons of Ishikawa Prefecture, the outer color is treated with metallic paint, and it is a cup with a thinly ground finish unique to Yamanaka's technique.
It is produced by combining the traditional technique of Yamanaka, the potter's wheel, the wiping lacquer that emphasizes the grain of wood, and the modern metallic painting technique.
We named it "Utsuroi" with the desire to express the changes of the four seasons and the shape of a new tradition.
Challenge to "traditional crafts" that incorporate trends
There are three major lacquer ware producing areas in Ishikawa prefecture: "Kiji no Yamanaka, Nuri no Wajima, and Makie Kanazawa". Yamanaka specializes in making wood using potter's wheel technology, and has made bowls and trays that make use of this technique.
However, sales will not increase with the traditional black and vermilion coating alone, and from the idea of ​​making new products by utilizing some new technology, we started developing products with new designs and colors in the fall of 2017.We did.
The vibrant colors of modern colors and the beauty of traditional painting, which are conscious of recent trends, are expressed on the stylish design by the technique of "Yamanaka of wood".
There are three sizes, S, M, and L, and each can be stored in a nested manner like a matryoshka, so it can be stored more compactly than stacking. It is also excellent for carrying and outdoors.
In addition to the hollow cups, we have various products such as bowls and wood plates with rims.
2018 "Premium Ishikawa Brand" Certified Products
2019 "Director-General's Prize of the Ministry of Economy, Trade and Industry, Manufacturing Bureau" at the National Contest for Traditional Crafts" Winner
2019 "Good Design Award" Winner
2019 "OMOTENASHI Selection: Europe and America Selector Award" Winner
2021 Dubai Expo 2020 Japan Pavilion VIP Souvenir Selection