Asada Lacquerware Kogei is offering a Yamanaka Lacquerware painting experience.
Why not make your own "Only Bowl" as a souvenir of your visit to Yamanaka Onsen by painting lacquer on lacquer chopsticks and bowls?
The Wiping Lacquer experience involves rubbing lacquer into the unpainted wood and wiping off excess lacquer with a piece of paper.
Our craftsmen will then finish the piece and deliver it to you at a later date.
Weekends, Bank Holidays and just before the Bon Holidays are often busy, so it is advisable to book in advance.
Days and times 9:00 – 17:00 (last appointment at 16:00) Please fill in the booking form below.
Ishikawa/Kaga] [Traditional Crafts] [Lacquerware Experience] Even beginners can enjoy♪ Yamanaka Lacquerware: Urushi Painting Experience

The Yamanaka Lacquerware Wiped Lacquerware Workshop is a fun experience even for those who are not good at painting! Yamanaka Lacquerware Wiped Lacquerware
The order of the painting experience.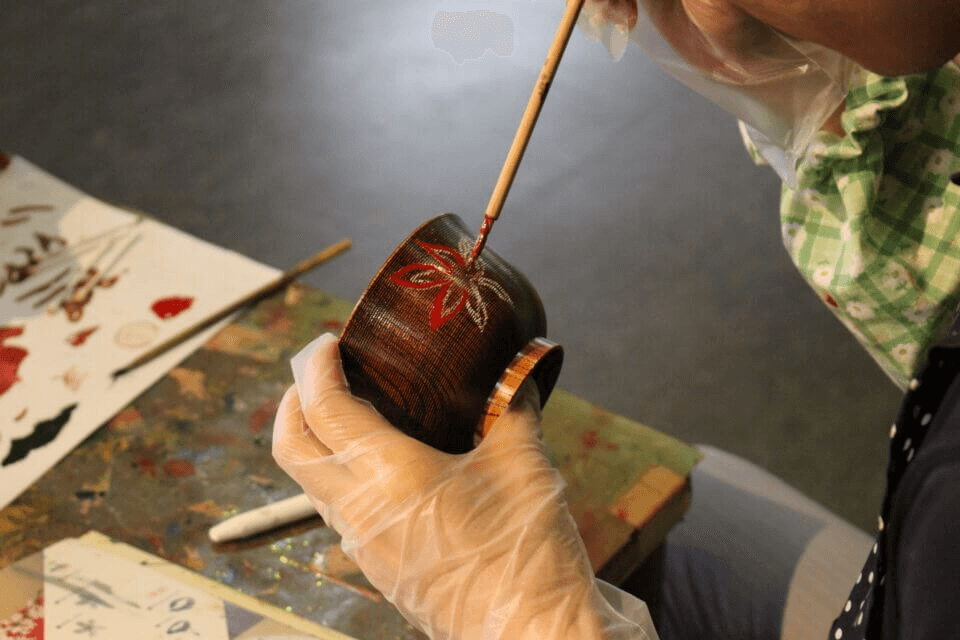 (1) Choose an item.
Choose from a variety of bowls, plates and chopsticks.
If you purchase chopsticks for 1,500 yen or bowls for 2,500 yen or more, you will be asked to pay a small fee on the spot.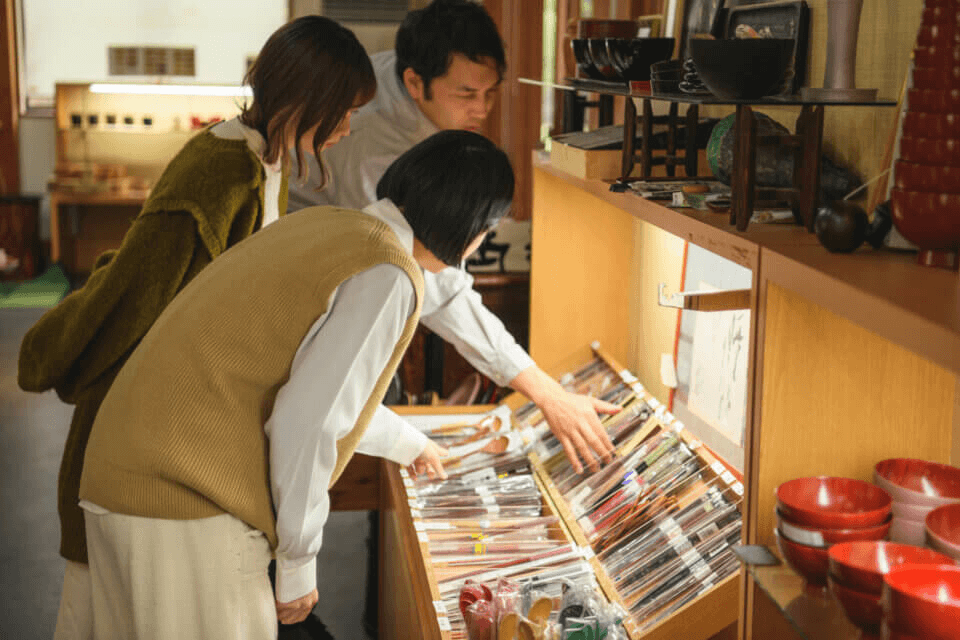 (2) Make a chalk drawing.
Draw a chalk sketch on the selected bowl or dish. You can also paint over the chalk with varnish.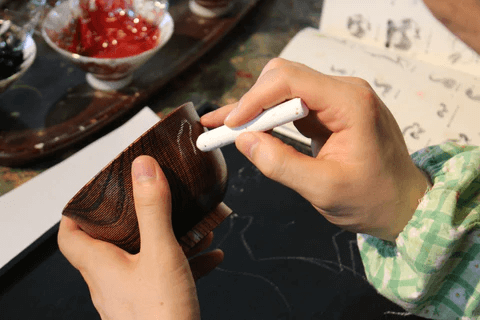 (iii) Paint with coloured paint.
Paint the picture with six different colours of varnish, including light blue. If the paint is applied too thickly, it will not turn out well.
The trick is to paint thinly and evenly.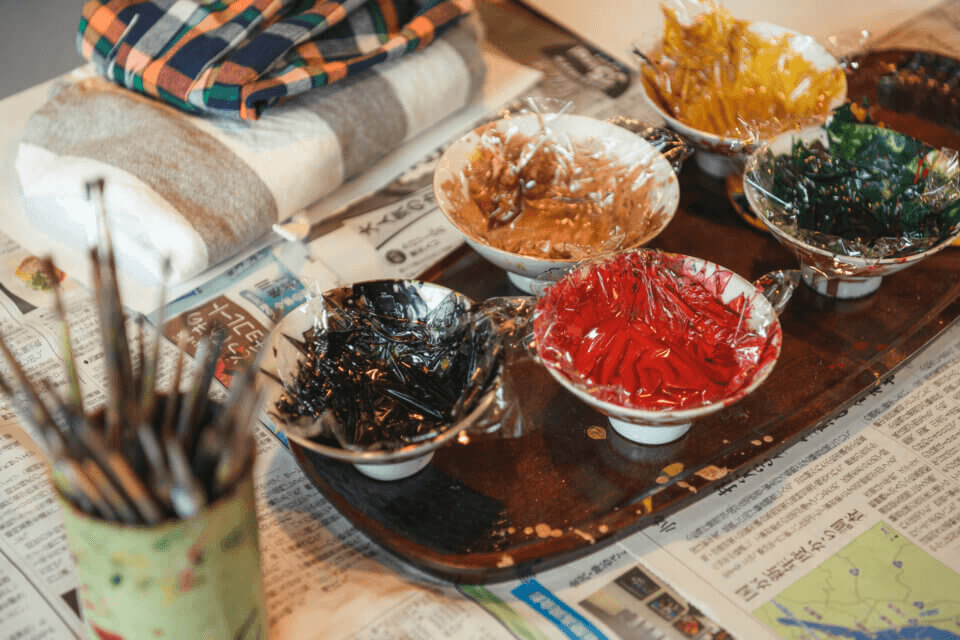 (4) Sprinkle with gold powder
Before the paint hardens, dust with gold or silver powder.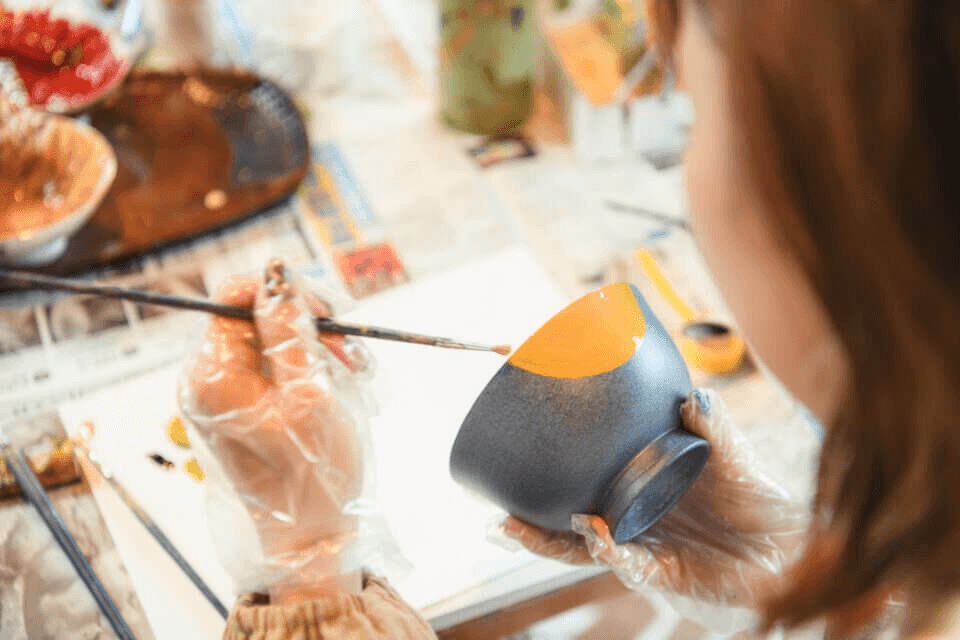 Finish!
It is fun to arrange chopsticks, bowls and various lacquerware in your own way♪.
This is a unique Yamanaka Onsen experience that can be enjoyed by children and adults alike.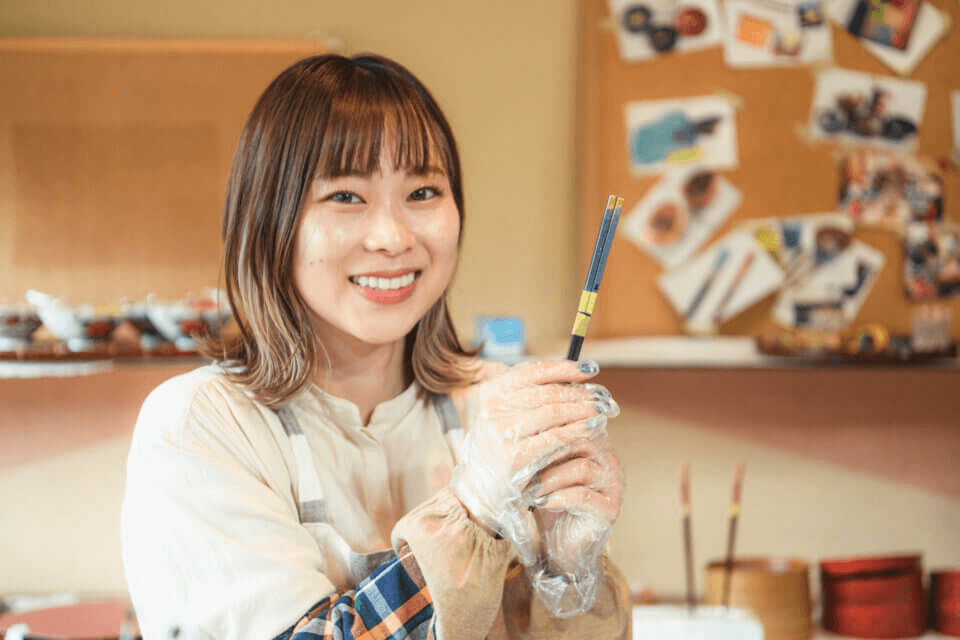 Delivery details
Please allow 1 week to 10 days from the time of manufacturing to the time of delivery.
*Postage is not included.
What to bring/what to wear
There is no special clothing required, but if the paint sticks to your clothes, it will not come off.
 Please wear clothes that can get a little dirty.
Please bring an illustration or design you would like to use as a reference for a smoother experience.
Notes
If there are any questions regarding your provisional booking, the shop will contact you.
 Please note that if we are unable to contact you within 4 days of your provisional booking, the booking will be cancelled.
This experience uses lacquer and alcohol. Depending on your constitution you may develop a rash.