Lacquering a product is completed when the process of applying coatings of lacquer and polishing them has been repeated four or five times.
This is what we call lacquer.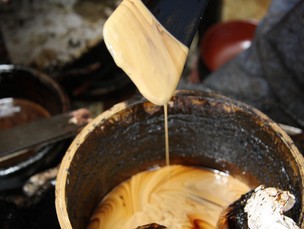 In Japanese we refer to it as "raw lacquer" (ki-urushi).
Lacquer dries by absorbing moisture from the air. Although laundry does not dry when the air is full of moisture, lacquer oxidizes and hardens under the same conditions.
Japanese lacquerware developed in ancient times in the humid and damp climate along the Sea of Japan, which makes it easy for lacquer to dry.
Our company lacquers round items using a machine known as a rokuro, whereas we lacquer irregularly shaped items by hand.
Also, our company carries out its work in pairs. One person applies the lacquer, and the other person polishes it. The process of polishing lacquer is said to be difficult. This is because it is necessary to polish the lacquer to such a degree that no traces of its application can be seen. Most lacquer coatings are polished in this way.
This is the room where lacquer coatings are allowed to dry.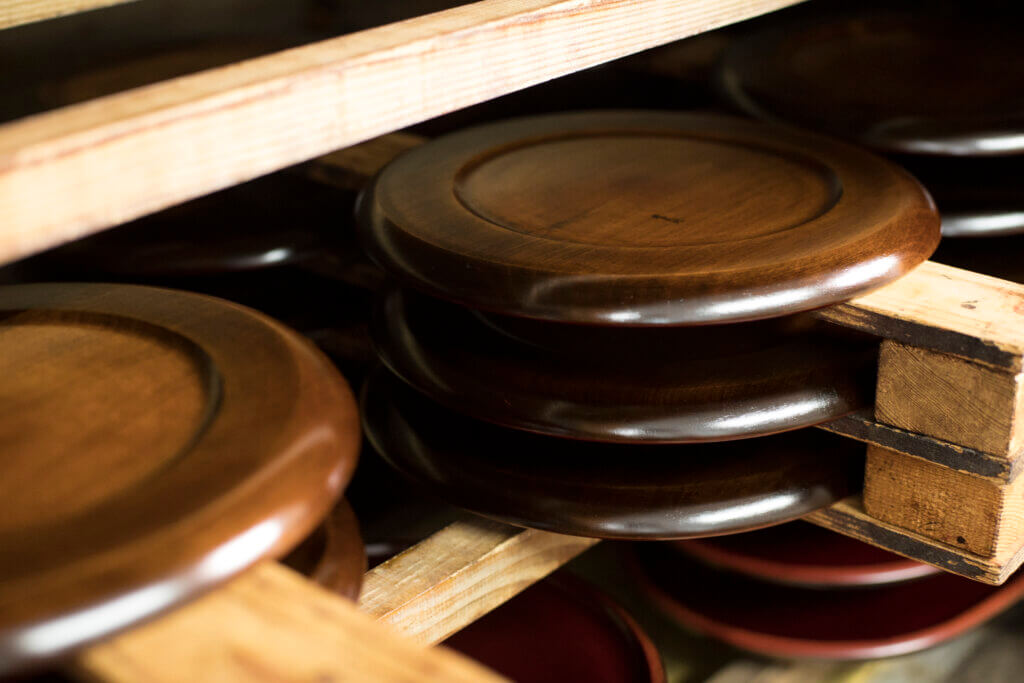 Generally, lacquer coatings dry after a day, but depending on the weather or climate, it may or may not dry easily. In this room, the temperature and humidity are adjustable and moisture can be added, and the electricity is turned on while the lacquer is stored to preserve its luster. The lacquer will not dry if the room's temperature is low or the humidity is insufficient.
At our company, you can experience the first wiping lacquer. On weekdays, you can experience wiping lacquer on bowls and cups after watching the workshop where lacquer is applied.

https://online.asada-shikki.com/collections/experience/products/fukiurusi-taiken

We ask that you make a reservation for the wiping lacquer experience and the painting experience.
We hope that you will enjoy the unique experience of Yamanaka Onsen.
We look forward to your visit.